Click here for original article.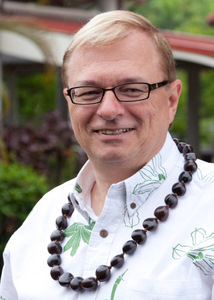 By:  Chancellor Donald Straney
In an effort to improve the future of West Hawai'i youth and young adults, the University of Hawai'i at Hilo is partnering with leading educational and state government groups to start an innovative collaboration aimed at improving the quality of life for 11- to 25-year-olds.
Coordinating the project is Kei-Lin Cerf, UH Hilo's new director of strategic community development for West Hawai'i.
Joining the effort are the Hawai'i State Department of Education (DOE), Kamehameha Schools, the County of Hawai'i, Queen Lili'uokalani Children's Center, and several other West Hawai'i organizations.
The group, called Hōkūpa'a (the North Star or literally, the immovable star), held its first meeting in January to discuss the West Hawai'i Complex Area's ongoing need to align the work of programs, organizations, and the community for better outcomes among youth and young adults.
Also collaborating on the project is Hawai'i Community College, the Hawai'i County Council, the Prosecutor's Office, the nonprofit Learning Coalition, and the Hawai'i State Office of Youth Services.
The group is motivated by some sobering statistics.
While nine percent of the overall working age population in the state of Hawai'i has less than a high school diploma, a full 19 percent of the population in West Hawai'i has less than a high school education, the highest percentage in the state (U.S. Census, 2006-2010 survey).
Further, of the students who do finish high school, too few students are pursuing post-secondary education. While almost 26 percent of high school graduates in the state attend one of the UH community colleges, the lowest "go rate" in the state is in West Hawai'i at 15.8 percent.
Further still, 28 percent of 16-19 years olds are neither employed nor enrolled in school.
National research shows this puts these young people at greater risk for young adult poverty, unhealthy lifestyles, lower lifetime earning potential, and increased reliance on social services.
The new group's first task is to build on currently successful programs and make stronger connections between agencies, programs, and most importantly, people who are already seeing positive results such as parenting groups and āina-based (land-based) STEM education specialists.
Part of the mission of Hōkūpa'a is to gather data to help make better decisions. This will help all youth and young adult programs and services connect with each other to find ways to learn from each other.
Ultimately, the goal is to help more students graduate from high school, when they will be better prepared to make smart choices about college or employment. This in turn improves the quality of life for the students, their families, and the community as a whole.
The high number of students in West Hawai'i without a high school diploma is a big challenge for postsecondary education because these students are very likely not college ready. UH hopes to change that with the opening of Palamanui. But students must be prepared for that option through support and intervention starting many years earlier.
Art Souza, West Hawai'i Complex Area superintendent, sums up the work ahead well when he says, "The work of educating a child is the work of an entire community. Schools participating in trusting partnerships with our broader communities is crucial to caring for the social, emotional and academic wellness of all our children."
Hōkūpa'a will host a Youth Support Forum in the near future. For information, contact Kei-Lin Cerf by email at [email protected] or (808) 896-6110. Learn more about the project at the UH Hilo Stories website.